Regular price
Sale price
€9.96 EUR
Unit price
€12.45
per
l
Sale
Sold out
plus €0.25 deposit per can.
Discover the irresistible pleasure of our OAT MILK LATTE. Perfectly tailored for coffee & vegan milk lovers, this unique creation combines our delicious fruity cold brew coffee with our specially developed oat milk.
Natural sweetness from oats - no added sugar
Natural light cream
70% cold brew coffee content
Vegan & Vegetarian

Higher caffeine content than regular coffee
Carefully selected blend of Arabica and Robusta beans
What you can expect: a cold brew coffee with oat milk that is not sugary and thick like a dessert - but a delicious experience that is both tasty and refreshing.
Buy now and discover for yourself!
Share
Shipping

Shipping within Germany depends on the value of the goods. The shipping costs are as follows depending on the shopping cart:

- from €0.00 - €48.99 shopping cart = €2.95
- from €49.00 shopping cart = €0.00

The following shipping rates apply to other countries:
Belgium: €9.99
Denmark: €9.99
France: €9.99
Italy: €9.99
Luxembourg: €9.99
Netherlands: €9.99
Austria: €9.99
View full details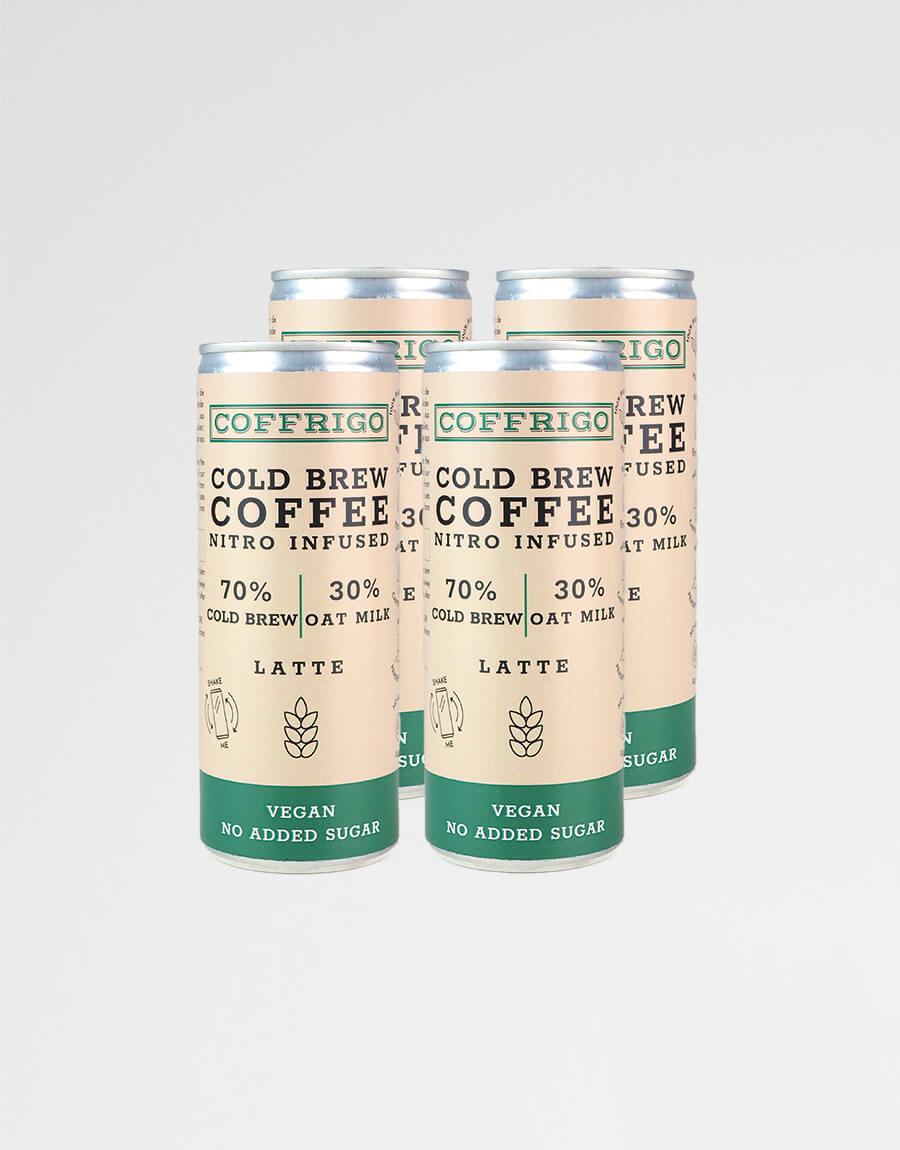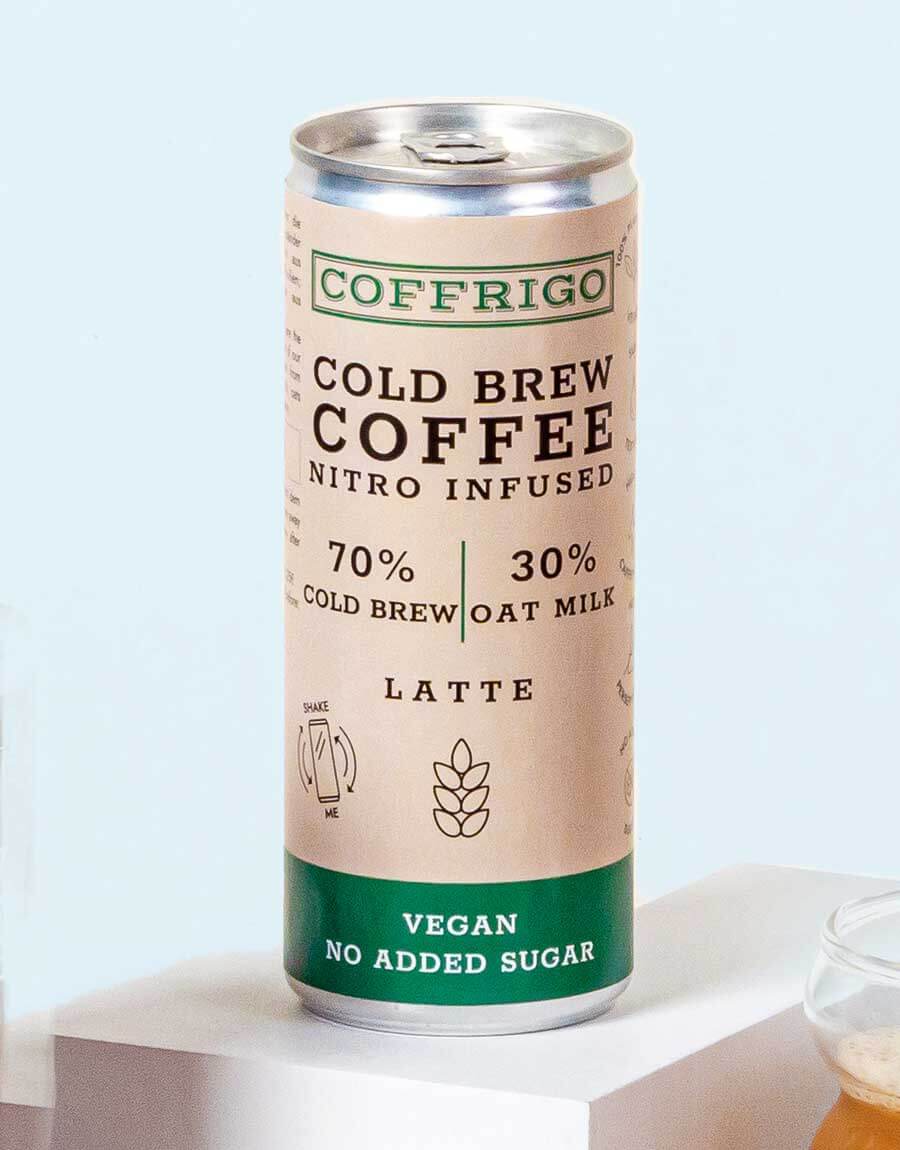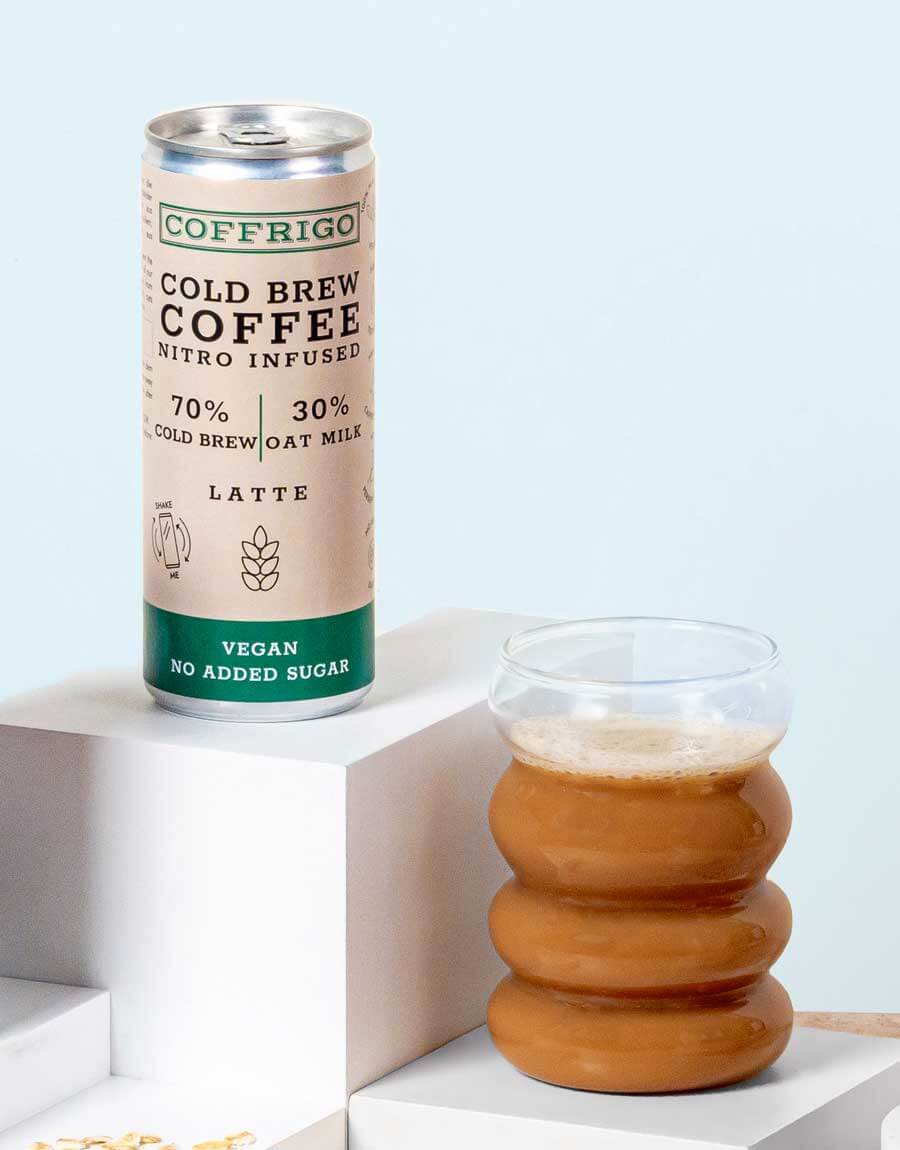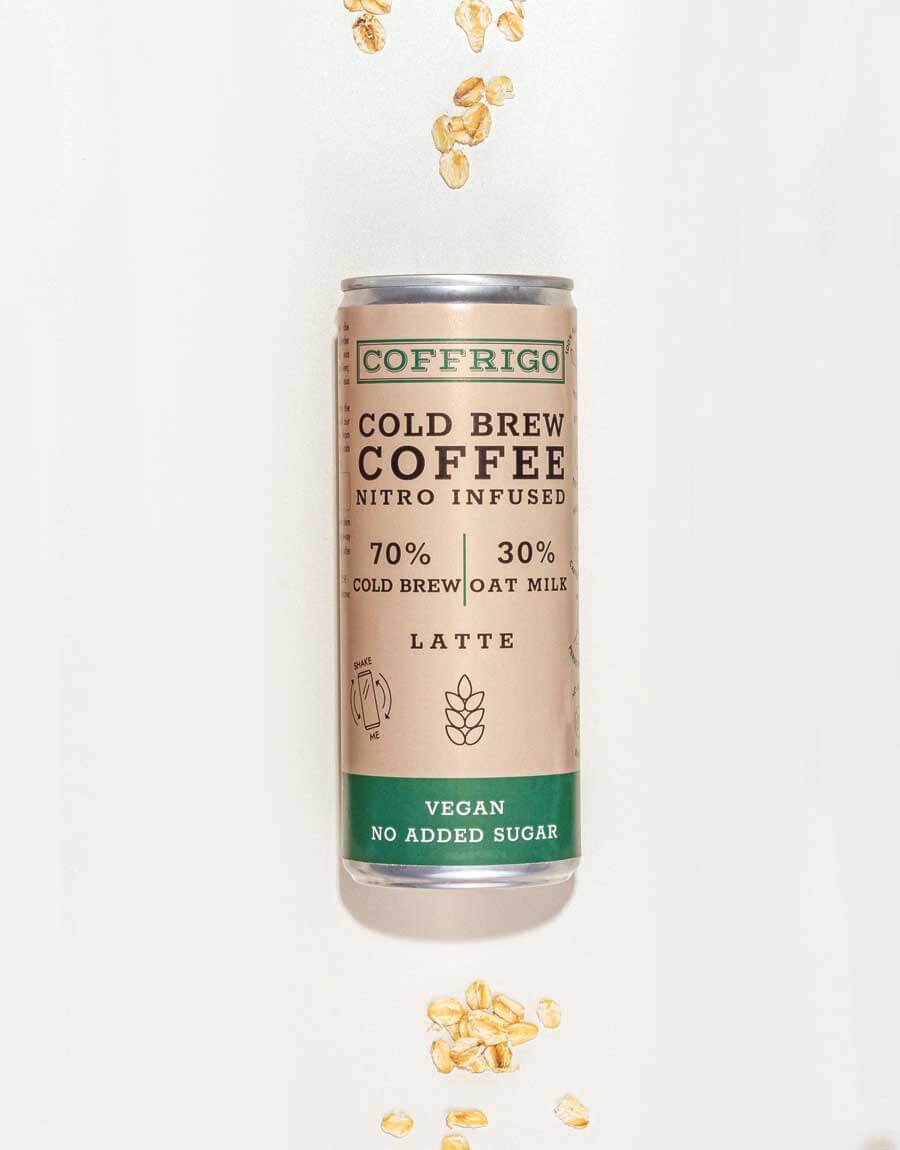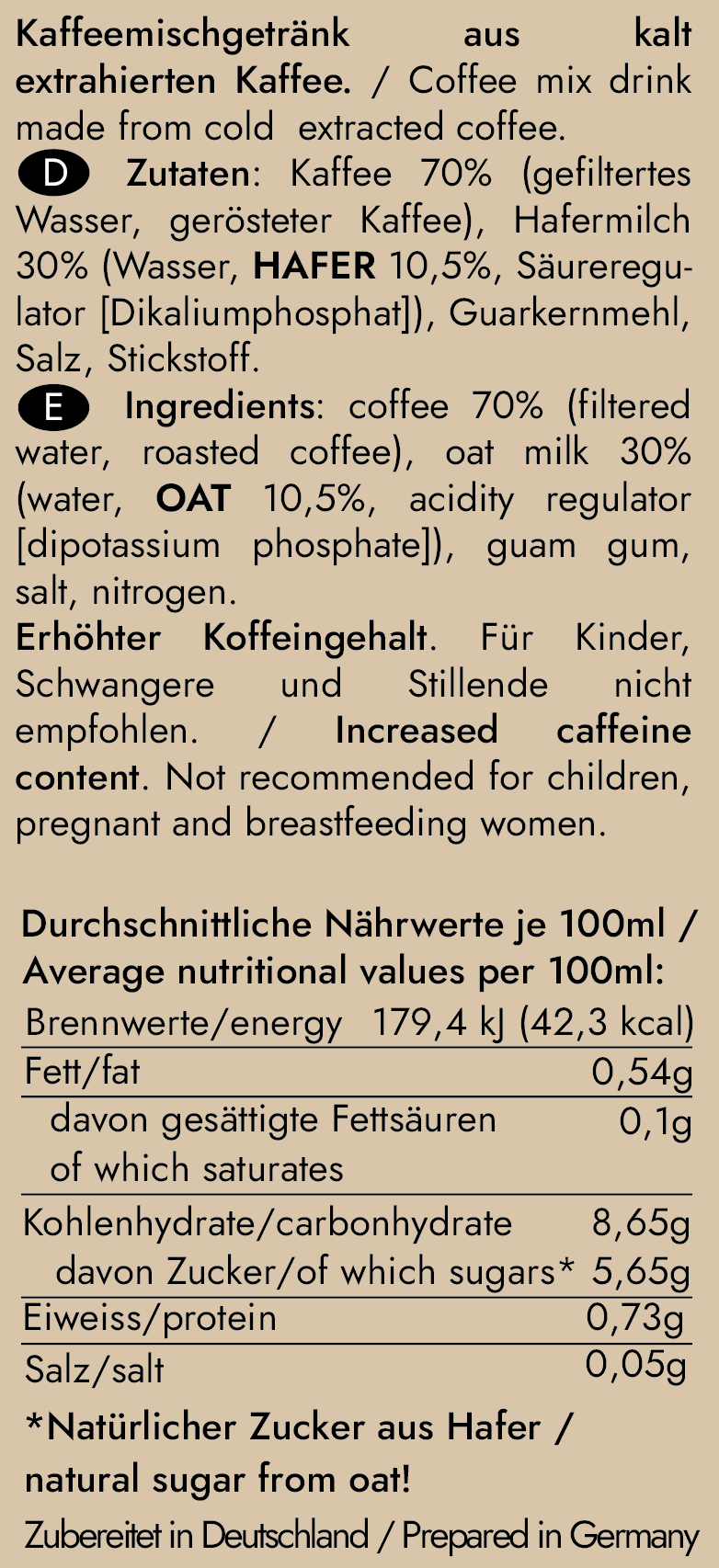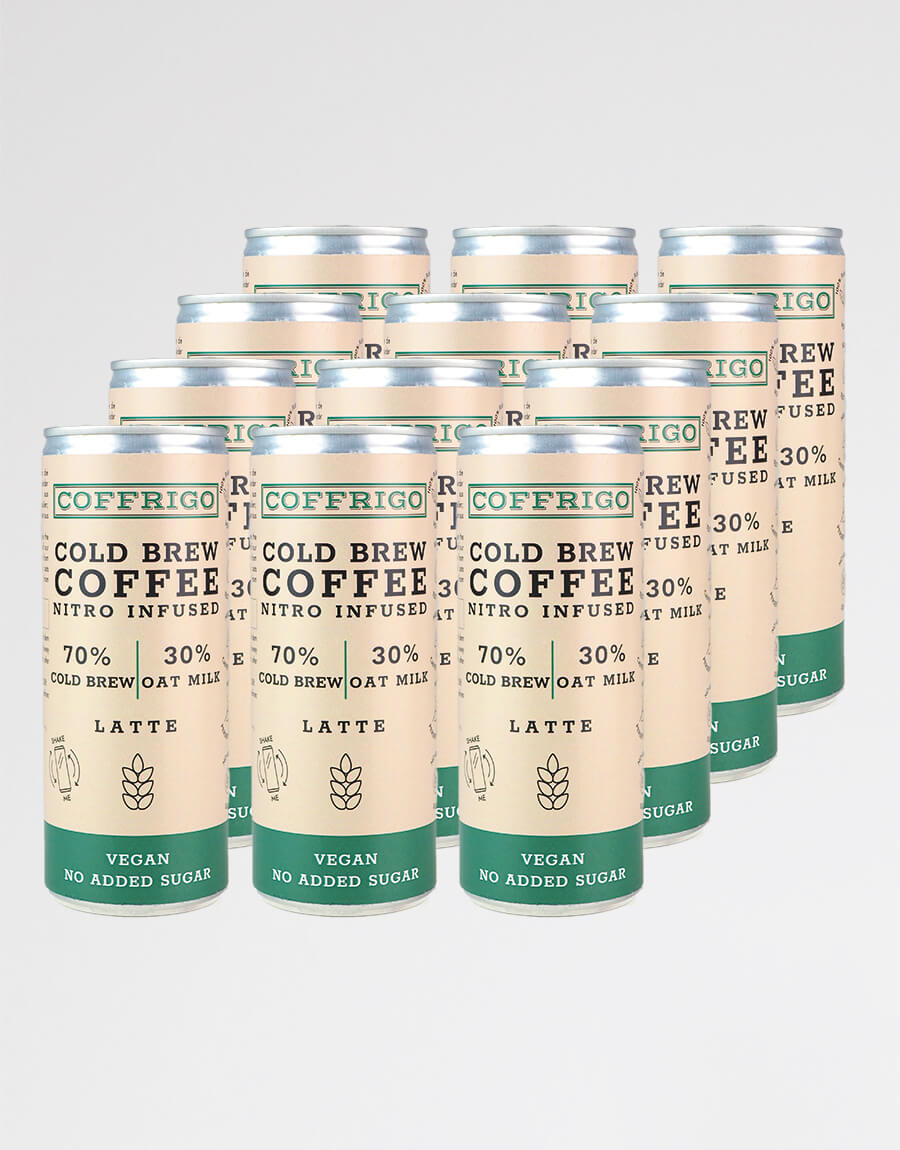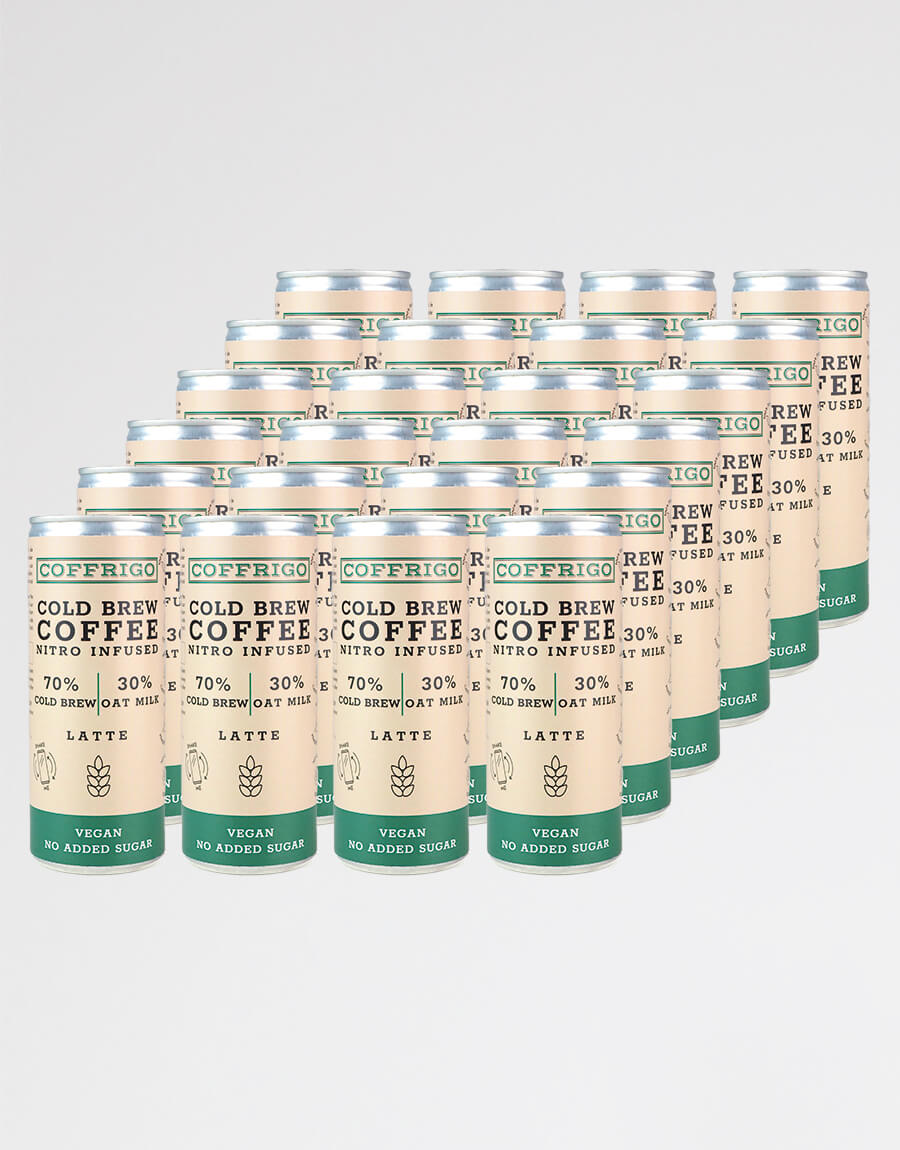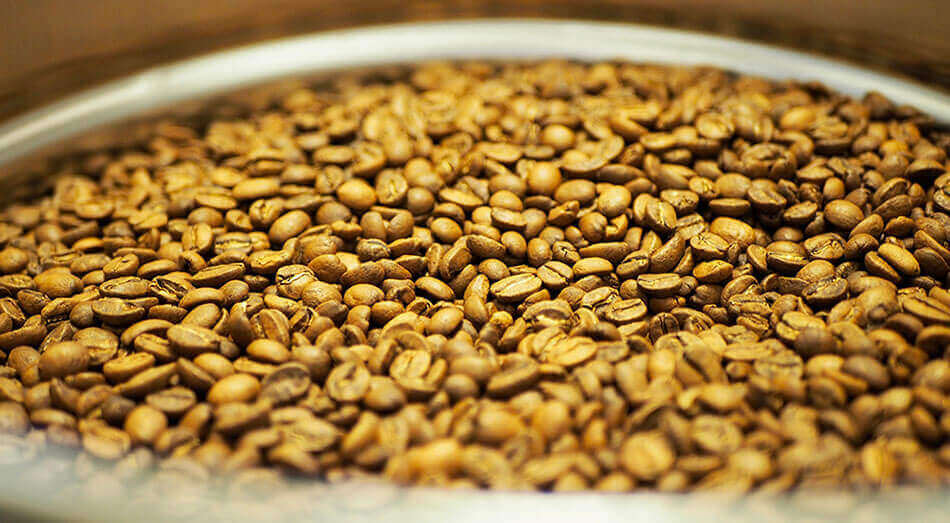 Exceptional beans
carefully selected and harvested. Gentle and lightly roasted, we preserve the full range of flavors and aromas inherent in coffee.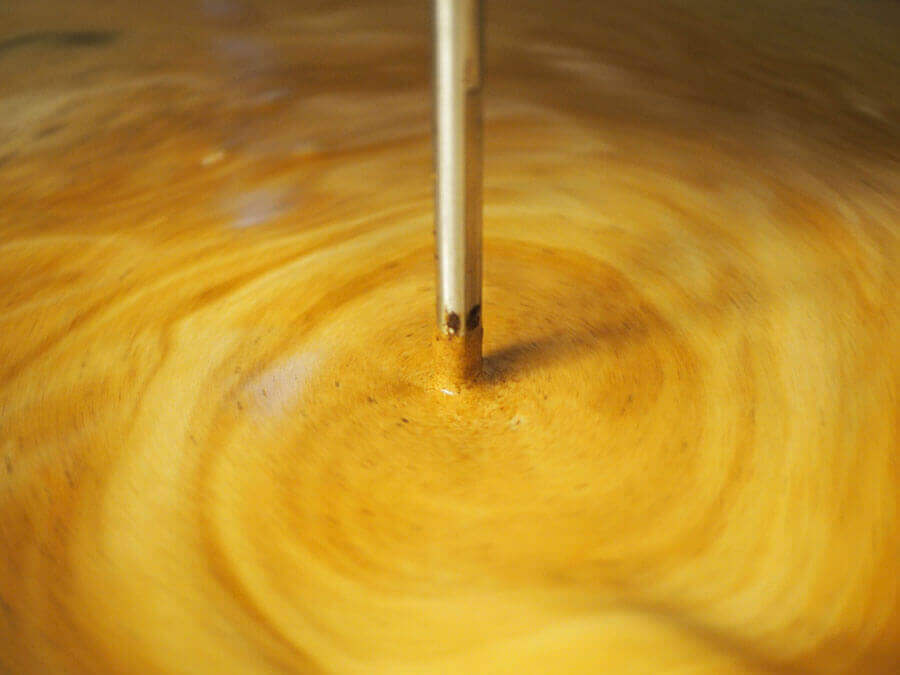 Cold brewed for 14 hours
the freshly ground coffee unfolds its full potential and at the same time without most bitter substances and acidity. This is what makes our cold brews so unique in taste.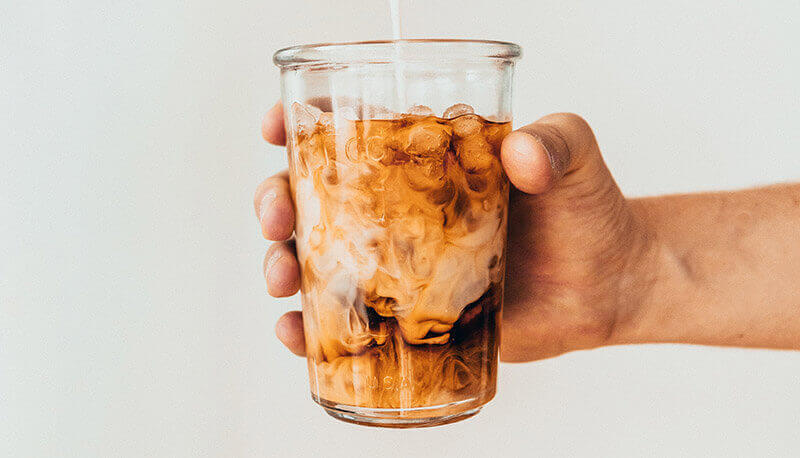 Bottled and sealed in the can
Our cold brew coffee is guaranteed to be as fresh and aromatic as possible with every taste. Whether you're at home, at work or on the go, you'll always have a delicious and refreshing pick-me-up at hand with our canned Cold Brew.
hervorragend!
ich liebe Coffrigo seit es raus gekommen ist und seit die neuen Geschmack Sorten gibt, bin positiv überrascht ! Hafer ist mega !
Super für den Sommer!
Ich Liebs! Sehr lecker und erfrischend!
Best coffee for the summer
Wir haben diesen Kaffee für unser Büro gekauft und alle lieben ihn!ist perfekt für die heißen Tage. Es hat einen perfekten Geschmack!
Auch für Café-Ablehner
Obwohl ich klassischen Café noch nie mochte, kann ich den Hafer Latte ohne zusätzliche Milch und Co. trinken und genießen. Mischung ist echt gelungen!
Love it
Sehr schnelle und zuverlässige Lieferung. Eine sehr schöne und qualitativ hochwertige Dose. Mit keinem anderen Cold Brew Coffee Produkt zu vergleichen. Geschmacklich ganz nach meinen Erwartungen - Love it
You have questions? Here you will find the answers.
What does "cold brew" mean?

The cold brew method is a unique brewing technique that involves extracting freshly roasted and ground coffee in cold water for several hours. This process allows us to extract only the most desirable flavors from the beans, resulting in a smooth and rich coffee with a lower acidity compared to traditional hot brew coffee. This method is not just a trend, but a way to taste the true essence of coffee beans. The cold brew process brings out the natural sweetness and complexity of the beans, making for a truly exceptional coffee experience.
"Nitro Infused" - what is it?

"Nitro" refers to the infusion of nitrogen into our finished
cold brew coffees. This is an essential step in our process as it allows for a unique and creamy texture and enhances the coffee's natural sweetness. The nitrogen infusion process takes place over a 12-hour period, during which time all of the air is expelled from the coffee. The result is a smooth and refreshing taste like you've never experienced before. The nitro infusion gives our cold brew coffee a velvety mouthfeel and a cascading effect that adds to the overall drinking experience.
Where does the green coffee come from?

We carefully select our beans from India, Colombia and Nicaragua for their unique and distinct flavor profiles. These countries are known for producing some of the highest quality coffee beans in the world and we're proud to use them in our Cold Brew. Our commitment to sourcing quality beans is evident in every sip of our cold brew. We pride ourselves on having managed to create a delicious taste unmatched by other cold brews on the market. Whether you're a coffee connoisseur or just looking for a refreshing drink, we're sure you'll love the taste of our cold brew.
Is COFFRIGO lactose-free?

Our commitment to sustainability and taste is evident in our decision to make all three of our flavors completely lactose-free with oat milk. This decision was made not only for the benefit of the environment, but also for the benefit of our customers who may have dietary restrictions or preferences. We strive to make our products accessible to everyone without compromising on taste.
Du hast Deine Frage nicht gefunden?

Then send us an email to hallo@coffrigo.de or use our contact form - we look forward to your message!